Food is what we put on our plates to eat, to maintain life and much more! Food is love, passion, cultural and personal identity, natural resources, nutrients, work, sweat, trade, economy, transformation and experimentation; but with the world's environmental, social and economic differences in addition to the continuous increase of the population, good, clean, fair and healthy food for all at all times is the greatest challenge of humanity.
Sustainable development goals
The United Nations countries (193 in total), together with 150 leaders around the world, have adopted a set of 17 sustainable development goals (SDGs) to be met by year 2030 that aim to end poverty, protect the planet and ensure prosperity for all. Not surprisingly, most of the goals are related with food or could be achieved with a fare and sustainable food system, the goals aim for:1
1. No poverty;
2. Zero hunger (achieve food security and improved nutrition and promote sustainable agriculture);
3. Good health and well-being for all at all ages;
4. Ensuring inclusive and quality education for all and promote lifelong learning;
5. Achieving gender equality;
6. Access to clean water and sanitation for all;
7. Access to affordable and clean energy for all;
8. Promoting decent work and economic growth;
9. Promoting sustainable industry, innovation and infrastructure;
10. Reducing inequalities within and among countries;
11. Making cities and communities inclusive, safe, resilient and sustainable;
12. Ensuring responsible consumption and production;
13. Taking urgent action to combat climate change and its impacts;
14. Conserving and sustainably using the oceans, seas and marine resources;
15. Promoting sustainable management of forests, combating desertification, halting and reversing land degradation and halting biodiversity loss;
16. Promoting just, peaceful and inclusive societies; and
17. Revitalizing and creating global partnerships to achieve the goals.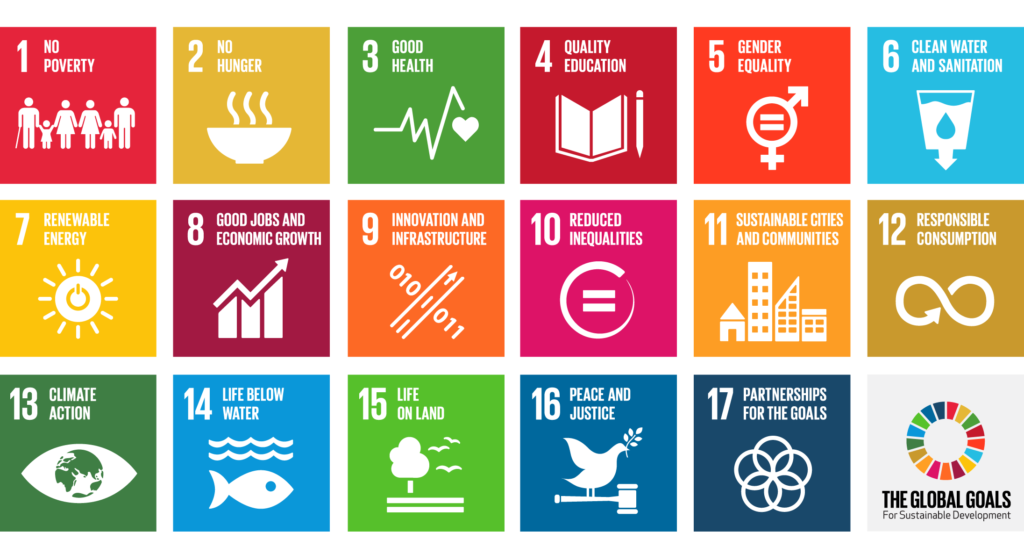 The dictionary defines food as any substance (usually of plant or animal origin) consumed to provide nutritional support (i.e. carbohydrates, fats, proteins, vitamins and minerals) by an organism. In fact, carbohydrates, fats and proteins, are building blocks of all living organisms on earth. Nutrients are assimilated by the organism to provide energy and maintain life.
Food commodities
FAO (Food and Agriculture Organization of the United Nations) estimates that the total agricultural production worldwide is about 6 billion tonnes per year.2 So in order to better understand food production and its footprint on natural resources (environmental footprint), food has been grouped into eight commodites2:
1. Cereals (excluding beer);
2. Starchy Roots;
3. Oilcrops and Pulses;
4. Fruits (excluding wine);
5. Meat;
6. Fish & Seafood;
7. Milk (excluding butter) & Eggs and;
8. Vegetables
Interestingly, cereals represent the biggest agricultural commodity (34% of the world's production) followed by animal products (20% (meat, milk & eggs and fish & seafood))2 as shown in the figure below:
But let's go back to the beginning…
Food production requires essential elements (carbon, hydrogen, oxygen and nitrogen (which form all living organisms)), water, soil and biodiversity.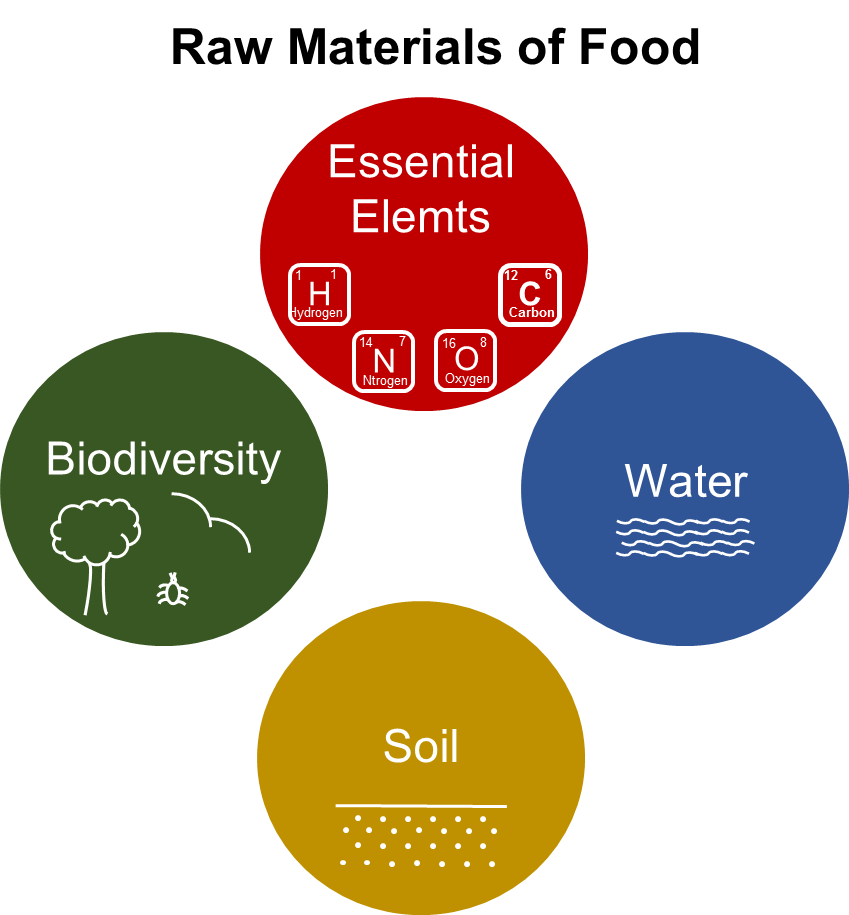 To produce food we need a lot of natural resources as well as energy for postharvest handling and storage, processing, distribution and consumption2… and therefore, food has an impact on the planet.
The Environmental Footprint of Food
The "environmental food footprint" refers to the energy and resources required for its production and is measured through four indicators: the carbon footprint, the blue water footprint, land occupation and the impact on biodiversity.2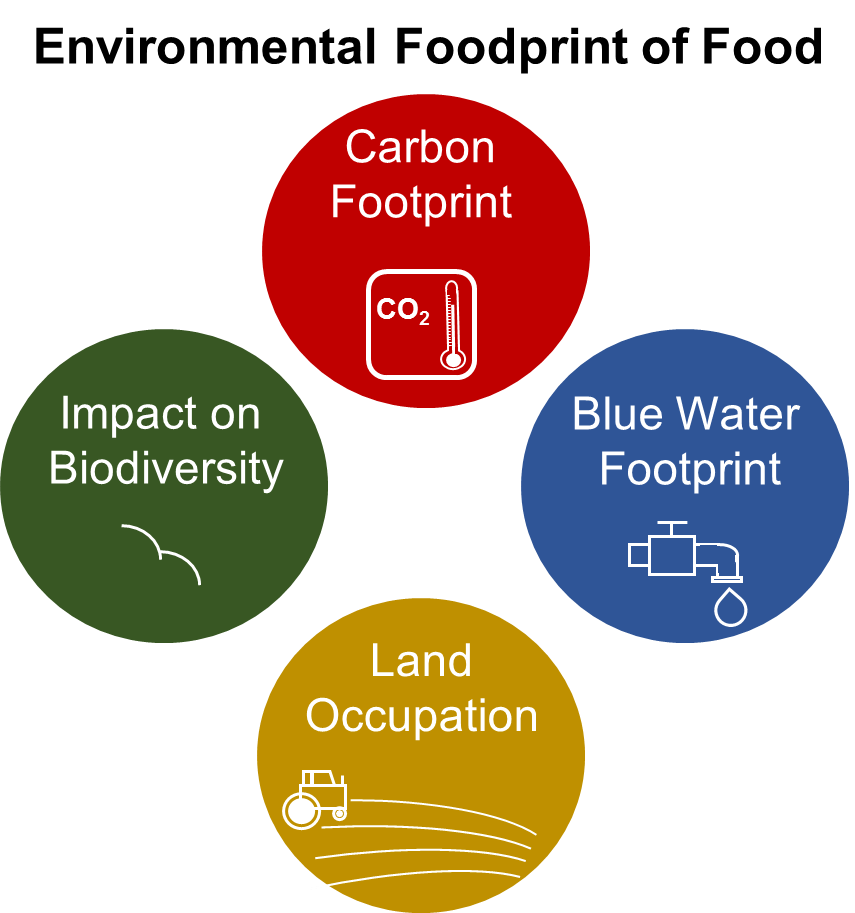 In regard to the carbon footprint, the foods with the highest impact are cereals and animal products, accounting for 34% and 33%, respectively. For the blue water footprint, the foods with the greatest impact are cereals, fruits and animal products, accounting for 52%, 18% and 16%, respectively. However, animal products have a larger water footprint per tonne of product than any crop. As for land occupation, animal products represent by far the biggest impact occupying 85% (78% meat alone) of the total surface area of the soil used to produce food.2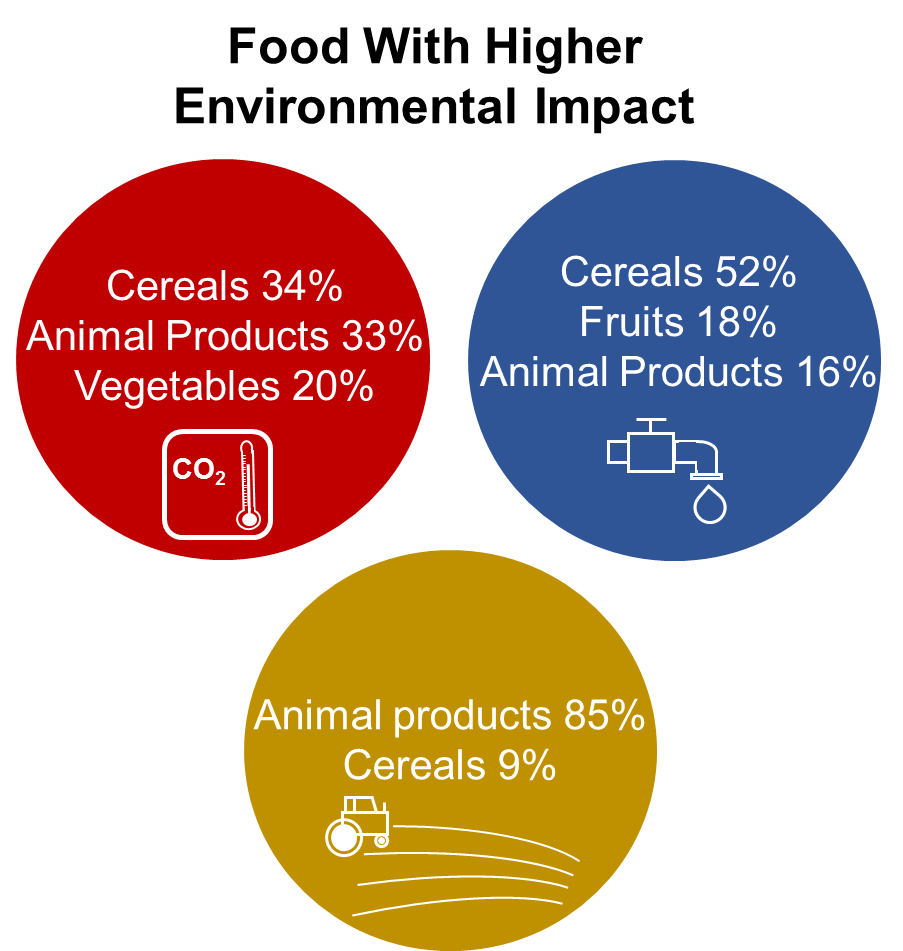 Concerning biodiversity, farming (conversion of wild lands and intensification) is the major global threat. This occurs especially in developing regions where 72% and 34% of species are threatened by crops and livestock production, respectively, versus 44% and 21% in developed countries. Also noteworthy, deforestation due to agricultural expansion occurs mainly in tropical and subtropical regions of Africa (62%), Latin America (25%) and Asia (13%)2 and has destroyed 5.2 million Ha/year between 2000 and 2010 (the net annual loss of forest equivalent to an area about the size of Costa Rica)3.
Meat and dairy products have the highest global food print of carbon, raw materials and water per kilogram of any food, not to mention its impact on land occupation and biodiversity.2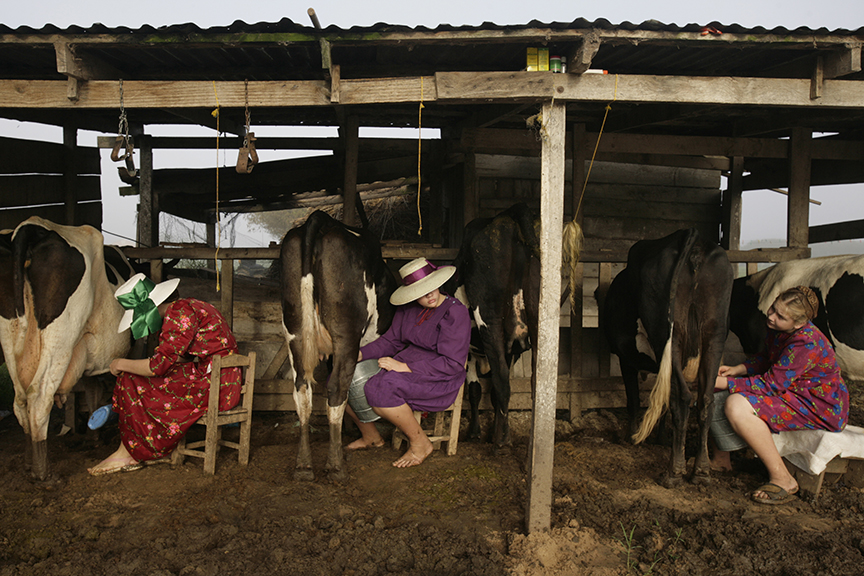 On this regard, the global movements Reducetarian and Meatless Monday are generating awareness on the health and environmental benefits of reducing the portions of meat derived products on our diets. Take the challenge and try it out!
If you are interested on the environmental footprint, check out the Global Footprint Network website which shows in detail the information about the environmental footprint of more than 180 countries and also based on your energy consumption calculates your personal environmental footprint. We will talk about the topic soon. Keep tuned!
But, why should we think about this? Why is this so important?
Humanity is facing an important problem: How will we feed the growing world population in a fair way, without overexploiting nature, without excluding people and without tormenting animals?
Agriculture is not a natural process. Humans have domesticated nature to produce food. However, before the Industrial Revolution, people respected the environment and natural cycles more than they do today maybe because of the lack of technology and/or they were less concerned with the financial system.
Paradoxically, with the development of technologies and the understanding of processes, the overexploitation of natural resources started: monocultures (and to allow them the use of pesticides and synthetic fertilizers) and intensive animal farming consequently vitiated societies with an excess of food at consistent low prices which makes it possible to waste. In truth, the low cost of food is paid at a high price by the environment, animals, farmers, and the society.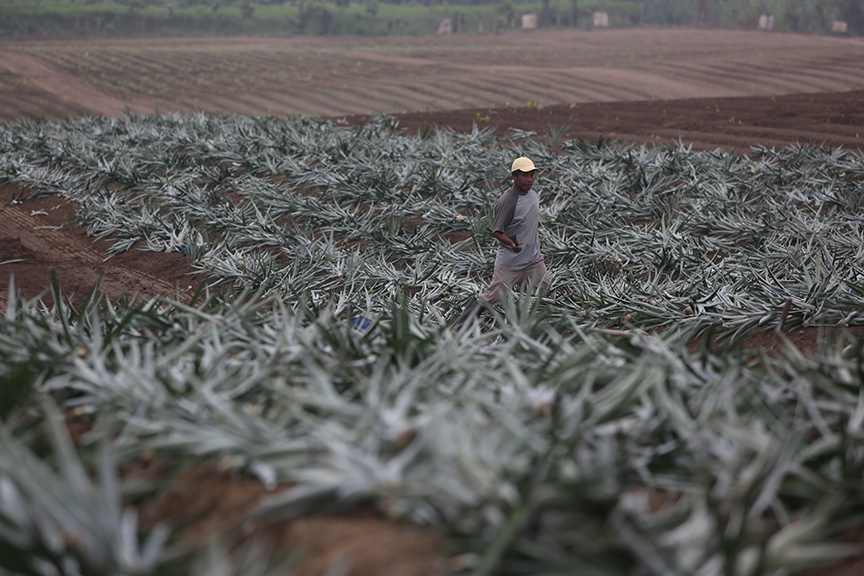 Additionally, from the 250-300 thousand known edible plant species existing in the planet only 4% (150-200 species) are used by humans. And from these, 3 (rice, maize and wheat) contribute to 60% of calories and proteins obtained by humans from plants. In the world, 75% of the food is generated from only 12 plants and 5 animals.4
We are losing local knowledge and agrodiversity is disappearing (ca. 75% of plant genetic diversity has been lost since 1900).4
In addition to being environmentally unsustainable, our food system is economically inefficient. For every dollar spent on food, the society pays two in health, environmental, social and economic costs.5
Half of these costs are related to consumption (obesity, malnutrition and micronutrient deficiency) and the other half is associated with the way food is produced (waste, pollution (intensive production uses large quantities of pesticides, fertilizers and antibiotics) and depletion of natural capital (water pollution, soil degradation).5
Conclusion
Things need to change urgently!! We are destroying our planet and losing food diversity due to our obsession for uniformity food (size, color, shape, taste) and high yield… We need to start valorizing diversity and living in a sustainable way!
Sustainability means ensuring human rights and well-being without depleting or diminishing the capacity of the earth's ecosystems to support life, or at the expense of others' well-being. It is a multi-dimensional concept encompassing environmental integrity (nature), social well-being (people), economic resilience and good governance (FAO).6
It all seems very complicated… so what can we do? A lot!!!
We can choose to eat differently, to select better, to buy at a fair price, locally, seasonally and only that which we are going to eat all the while supporting good agricultural practices. There are great initiatives around the world. Join us in this journey to discover them and start supporting them!!
Lexicon of Food has created a dictionary of themes and terms explaining the current food system that will change the way you look at food. Great graphic art and videos that are really worth checking.!
Food Tank focuses on spreading the knowledge about environmental, social and economically sustainable initiatives to eradicate hunger, obesity and poverty.
Believe Earth is another one where inspiring people tell what they are doing to make the world a better place.
A great example regarding the power of consumers to improve the food system is the French company C'est qui le Patron (Who is the boss). Consumers were asked the characteristics of the milk they wanted to consume (remuneration for farmers, origin, grazing time, no genetic modified organisms) and the price they were willing to pay for it (0.99 euro instead of 0.69 euro). The milk was very successful and the company is now also selling other food products.
There are also many local movements such as the Ecuadorian citizen initiative Que rico es where smart consumers organize local markets and get involved with local problems regarding their food system (labels, nutrition, seeds, etc.).
With respect to the new sustainable business models that exist today, take a look at the solutions shown in Drawdown and ZERI. It's really worth seeing!
The Ellen Macarthur Report proposes innovations that can be implemented in cities using the circular economy model with the potential to regenerate the food system. Get inspired and participate in the change!
We also recommend you check out Slow Food, a movement born in Italy and spread all over the world. The movement focuses on the protection of biodiversity and the importance of building a sustainable food system. Together we share the idea that diversity (biological, cultural, linguistic, generational, sexual and religious) is the greatest treasure that we have as individuals and as society and that the importance of good, clean, fair and healthy food for all is a priority.
Let's become critical consumers!!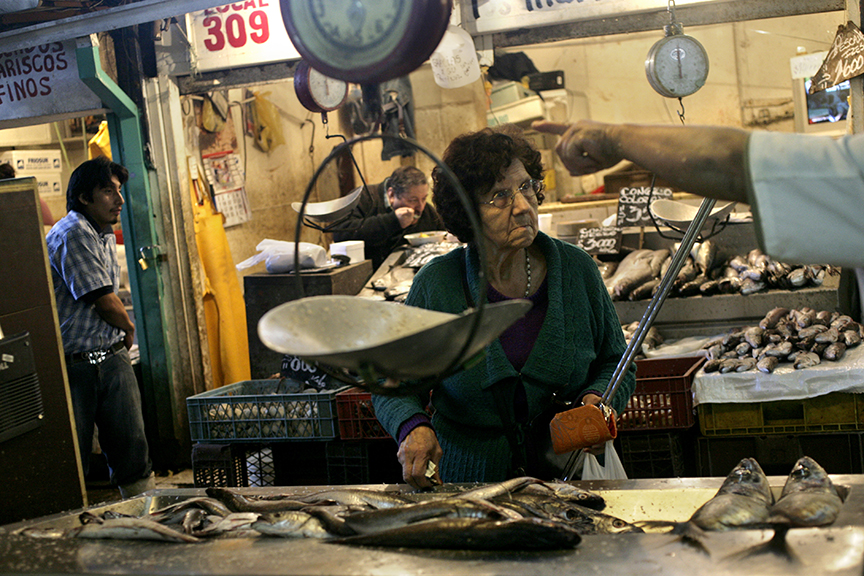 Only by becoming aware of our contribution can we take decisions that will allow us to build a sustainable world. Our consumer footprint has an impact… Let's start making some changes!!
By M. S. Gachet et N. Zanuto
REFERENCES:
1 UN. Sustainable Development Goals.
2 FAO, 2013: Food Wastage Footprint. Impact on Natural Resources.
3 FAO. World deforestation decreases, but remains alarming in many countries.
4 FAO. What is Happening to Agrobiodiversity?
5 Ellen Macarthur Foundation, 2019: Cities and Circular Economy for Food.
6 FAO. Sustainability Pathways.