It is discouraging to see how the Amazon is being destroyed due to the need for the governments of the Amazonian countries to obtain money to improve the quality of life of their population by creating services such as education, health, work, transportation, industry, etc.
The Amazon region is one of the places with the greatest biodiversity on the planet. It is also the source of raw materials (oil, minerals, wood) and the space to raise cattle and produce soy.
In today's world where money allows people to live (buy food, clothing, housing, transportation, education, etc.) it is not very evident that the most essential human needs are: air, water and then food.
Air and water are natural resources or services that we get from nature. And yes, food is also a natural resource. If we think about it, we live thanks to the living beings that nourish us (plants, animals, fungi, algae, bacteria) and the interactions that these have within the different natural ecosystems that keep air, water, soil and living beings healthy.
Everything in nature is connected! (read the article Nature, Agriculture and Respect).
Healthy jungles and forests not only produce oxygen and store carbon dioxide (CO2) but also maintain a balance that even purifies water. In the Amazon region flows the largest river on Earth, the "flying river", that regulates the climate of our planet.
But, in the Amazon region, there is not only diversity of life but also a diversity of human cultures that live in harmony with nature.
This fragile ecosystem is in danger and preserving it is a task that concerns all the inhabitants of the planet.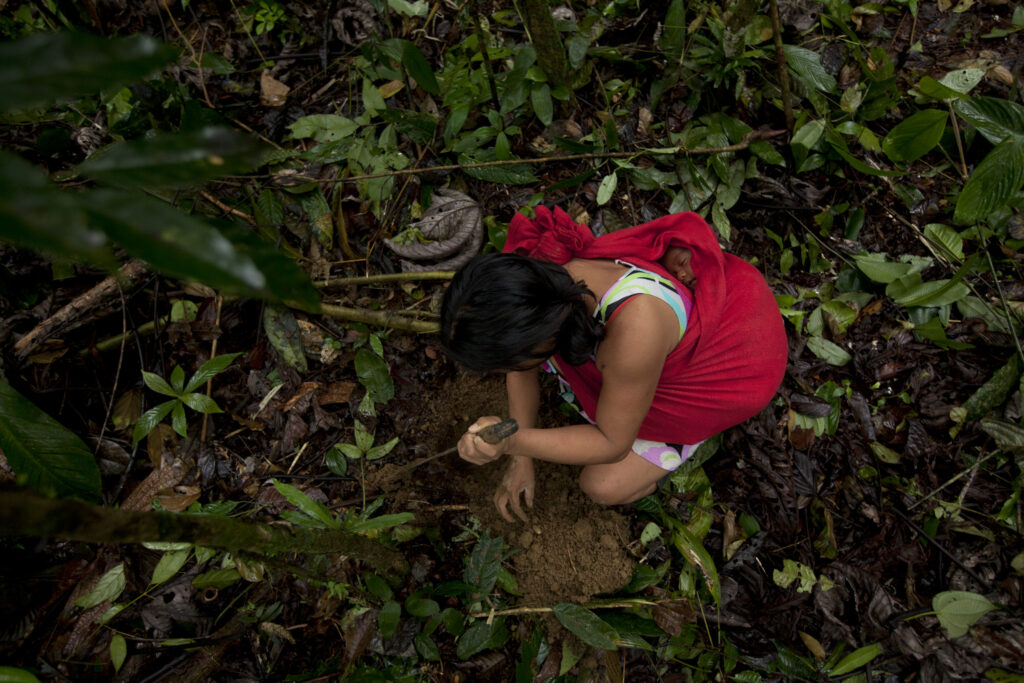 Why Ecuador?
In Ecuador, there are more than three thousand species of trees, 658 species of amphibians (307 of which are endemic or only present in Ecuador), 460 species of mammals (54 endemic), 498 species of reptiles, more than ten thousand species of birds1 and 13 indigenous ethnic groups that in Ecuador are known as nationalities because they have their own language and social organization and live in a defined territory. Eight of these nationalities live in the Amazon region2.
I had the opportunity to get to know Canopy Bridge many years ago. Canopy Bridge is a global network that helps suppliers and buyers of sustainable crops and wild products find each other, build relationships and learn more about natural products and the people behind them. One of their wild products in macambo.
Macambo (Theobroma bicolor) is the fruit of a tree related to cacao (Theobroma cacao). It is grown traditionally in diversified agricultural systems (or agroforestery) by associations of indigenous Kichwa producers from the Ecuadorian Amazon in chakras or family gardens. Its seeds are very nutritious (high in protein, fiber and omega-9) and, when toasted, acquire a delicious caramel flavor and a crunchy, unique texture.
The Amazonian population traditionally consumes macambo and shares its tradition with us.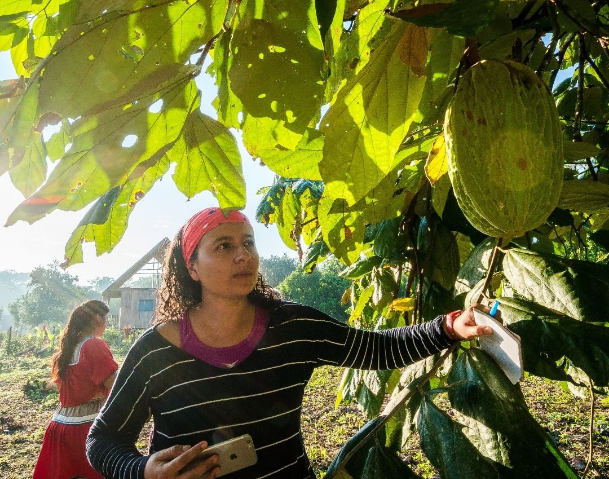 All Amazon countries such as Ecuador live from export of raw materials and this happens because there is a global demand, especially from industrialized countries. Perhaps this globalized system could become a solution, right?
For Ecuador, the export of products coming from "Perennial forests" (perennial= which lasts forever or a long time) could represent a concrete solution to conservation because they are a sources of income that in the future could replace extractive activities and intensive agriculture.
Why Italia?
I have lived in Milan, Italy for almost six years. I thought that perhaps the people of Milan might be interested in buying macambo once a year (during the harvest) and thus actively contribute to the protection and regeneration of the Amazon rainforest.
If we buy a constant volume of macambo every year making sure that this macambo comes from diversified family farming systems characteristic of indigenous communities, we will be able to guarantee the economic sustenance of the families that carry out this activity. This could motivate other families of producers and create jobs that respect the cultural identity of the ancestral peoples (creating a positive social impact) thus protecting the Amazon rainforest (creating a positive environmental impact). An Amazon taste for culture and biodiversity.
Italy is a country that is both rich in culinary tradition and also boasts the greatest biodiversity in Europe. Here, food is at the center of family and cultural life. Thanks to its lifestyle, it is one of the longest-lived countries in the world.
Italy is considered a developed country, one of the richest in the world and although is only slightly larger than Ecuador, 3.4 times as many people live here.*3
Throughout history, Italy, and the entire European continent have welcomed and integrated food. For example, corn, tomatoes, potatoes and pumpkins, arrived after the "European discovery" of the American continent. And yes, its reception and integration was not always immediate; for example, corn in Italy is known as "Turkish grain" because the Italians of that time would not have used it so easily if they knew it came from America.4 Today, polenta, made with cornmeal, is a traditional dish from northern Italy.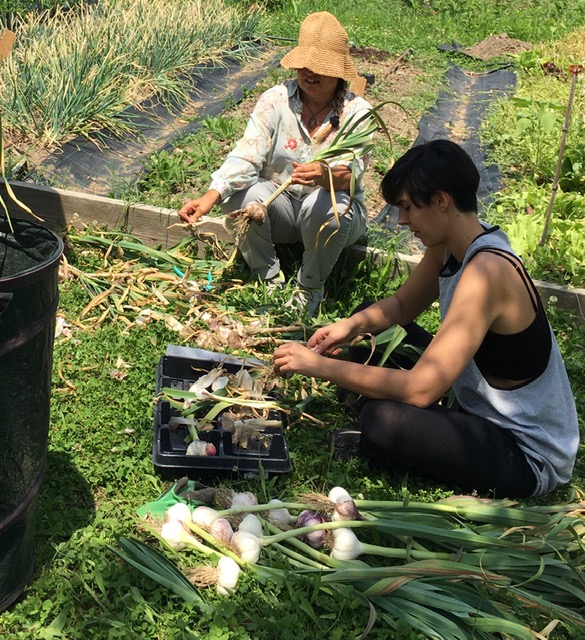 But Italy has not only welcomed foods that grow in its territory and are now part of its tradition, but also welcomes within its culture other products that grow in countries like Ecuador such as coffee, cocoa (with which chocolate is made) and the banana.
Recently, UNESCO is considering to declare espresso coffee culture in Italy as cultural human heritage.5 Fascinating, no?
Why Macambo?
Macambo could help to conserve a small part of the Ecuadorian Amazon jungle. Here we have a delicious and nutritious product along with a network of producers who are sharing a seed that is part of their culture and that grows in their chakras in a respectful way.
Will Italian consumers be interested in accepting this proposal?
Step 1: Tasting
With this in mind, I brought in my suitcase from Quito to Milan 8 kilograms of macambo so that the people can try it. I organized two dinners:
The first with the friends of the Segantini Park Association (about 25 people). It was a beautiful summer night where, together with the fantastic Gabriela, Laura and Melani, we cooked a delicious pasta prepared with vegetables from the orchards. On the menu was 3 types of zucchini (raw and blanched (or boiled for a few minutes)), blanched green beans (or vanitas), basil and a little garlic. The pasta was seasoned with saffron, Parmesan cheese, salt, olive oil and lots of love. The crispy touch of the pasta was given by the macambo.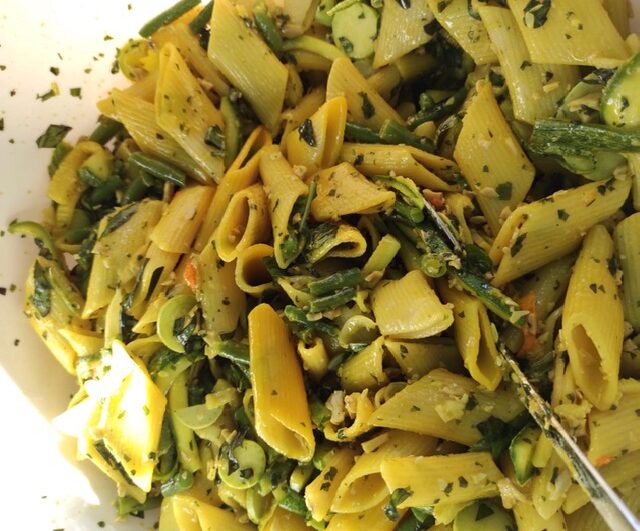 The second dinner was organized together with Soul Food, a small gastronomy south of Milan in the Navigli area. Soul Food is a small business managed by Andrea, a person who is very attentive to the origin and method of production of the food he sells and a place where the work of producers who respect nature is valued.
Lucia, the cook for this dinner, prepared a menu considering the different flavors of which macambo reminded her …"a little chestnut… a little natural and roasted peanut… a little hazelnut"… Taking this into account, she prepared 3 plates.
In the first course, we were able to enjoy mashed and toasted macambo serve on the top of a pumpkin cream.
For the second course, Lucia turned the macambo into flour to prepare, together with a small amount of chestnut flour, grapes, pine nuts and rosemary, the macambo version of the "castagnaccio" (typical Tuscan chestnut cake). The macambaccio was served with kale-type kale chips.
The last course was dessert. Here Lucía made two preparations, the first was a vegan cake with 78% chocolate and macambo crumble, and the second was a decomposed "cheesecake" based on ricotta mousse and caramelized pears accompanied by a cream based on toasted macambo.
Both dinners were really delicious.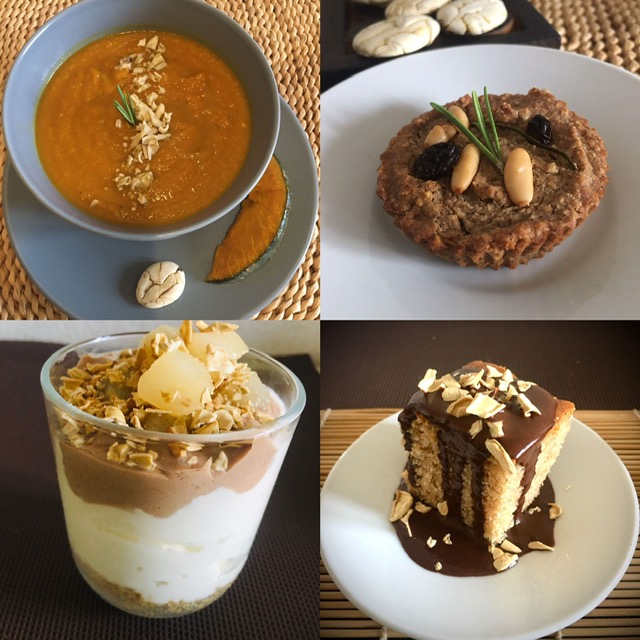 One of the things highlighted by the guests was the crisp and notoriously nice texture of the dishes. Macambo lends itself as the perfect addition because it does not overpower the dish. It provides a humble yet nutritious component to these culinary treats.
Macambo was not only tasted within elaborate dishes but also intact in one of its three available presentations (natural, salty and chocolate). About 70 people tried macambo and 47 of them gave their opinion.
Regarding taste, the majority (51%) of people consider the macambo itself (natural, salty and/or chocolate) "good", 20% find the taste "indifferent", 14% find it " delicious" and 14% "did not like it".
Almost all participants considered it is important: to increase the diversity of foods in the diet, that macambo is nutritious, that it has a positive social impact and that it promotes fair trade and the conservation of the Amazon forest.
In conclusion, they like the taste, they like the proposal but… nobody is crazy about buying it.
Step 2: How to make macambo popular?
I had the opportunity to meet the chefs of the AlTatto restaurant in Milan. Sara Nicolosi and Cinzia De Lauri are two fantastic women who cook at this small bistro where vegetables, quality, origin of food and seasonality are valued. They offer a delicious sensorial experience. If you live or come to Milan, don't miss it!
After trying the macambo and knowing the proposal, Sara and Cinzia are betting on the project! They proposed to activate their network and invite 3 of their colleagues in order to make a purchase that merits the importation of macambo in Italy. They believe in the importance of directly supporting projects that have the potential to safeguard the environment. Also, they love the idea of being able to value a product belonging to the culture of one of the indigenous groups living in the Amazon region.
The idea is that these 5 chefs cook and experiment together with the macambo to discover and introduce this Amazonian seed and its history to the people of Milan.
The third step is to find out the modes and costs of transportation, the import requirements and what is necessary to bring the macambo to Italy. The idea is also to be transparent with the price and the necessary steps to make this project possible. I will keep you updated.
Stay tuned!*In 20193: 1) life expectation in Italy was 83 years old while in Ecuador it was 71 years old; 2) gross domestic product (GDP) in Italy is 2.009 trillion US dollars while in Ecuador it is 108 trillion; 3) in Italy almost 60 million people lived while in Ecuador around 17 million people. The Italian territory is only 17.780 Km² bigger than the Ecuadorian territory (an area similar to the province of Sucumbíos (18.084 km²)). 
By M. S. Gachet
REFERENCES:
1 Platform BIOWEB
2 Ecuadorian Government, 2006. La población indígena del Ecuador
3 Data World Bank
4 Online course Semillas ancestrales, historia, cultivos y usos. Madre Semilla
5 Il Sole 24 Ore, march 23th 2022. Café espresso, Italia se suma a las candidaturas para convertirlo en patrimonio de la Unesco